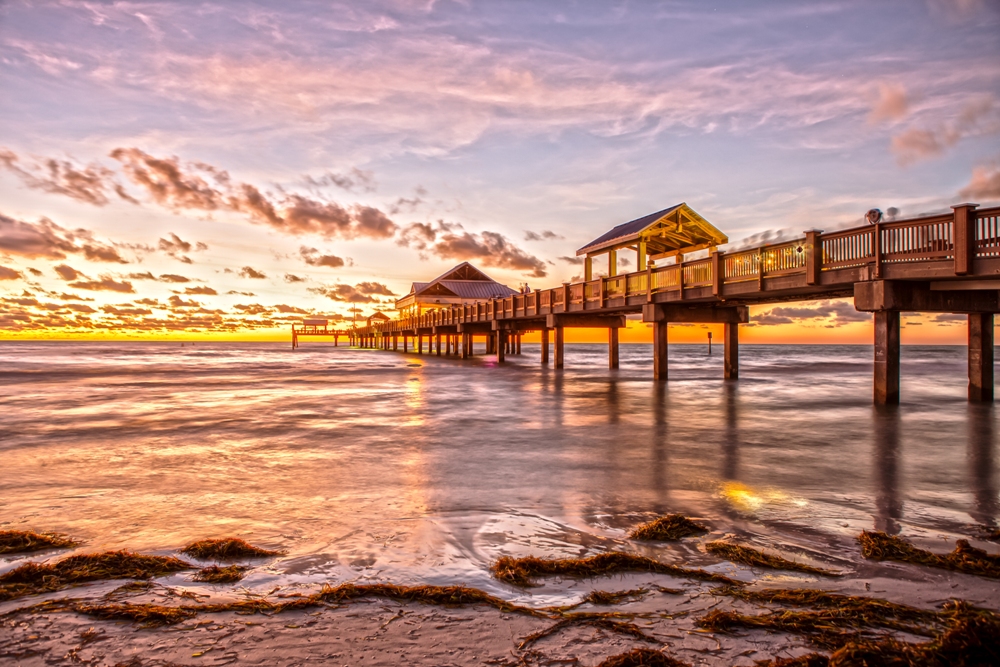 Clearwater, Florida is part of Pinellas County, within the U.S., located just east of the Gulf of Mexico, and west of Tampa. It is home to beautiful beaches, water, and weather. It is a fun, family alternative to the beaches of Fort Lauderdale and Orlando. As part of Clearwater, the Clearwater Beach is a three mile stretch of white sand on a barrier island; Florida offers hot days, slightly cooler nights, and much to do. If you are looking for a place that offers more than just an interruption to the mundane, look no further than the beaches, boating, fishing, golfing, dolphin watching, and watersports of Clearwater!
Clearwater offers the magic of the sea! The lure of sand under your feet! The enchantment of dazzling coastlines and lapping surf! Watch an awe-inspiring sunset paint across the sky, and sink into the ocean!
Visit Clearwater Marine Aquarium! Clearwater Marine Aquarium is a rescue, rehabilitation, and release aquarium! You can gain first hand appreciation of sea life: see the sea turtles, dolphins, pufferfish, otters, sharks, stingrays, and other marine life. You can take advantage of the fair weather with a boat or kayak tour, or spend time partaking of an animal encounter! You can see Winter swim with her prosthetic tail, and with Hope, Winter's best friend; Winter is the star of the 2011 movie Dolphin's Tale. If you are looking for interaction with sea life, you can feed the nursing sharks, the pufferfish, or the stingrays. At Clearwater Marine Aquarium, you can engage with the wonder that takes place under the sea.
When you are done playing in the surf, visit the Moccasin Lake Nature Park. Moccasin Lake Nature Park is a 51 acre preserve, and Moccasin Lake encompasses 5 acres of the park. The park supports six different types of ecosystems; a dry prairie, a scrub swamp, a hardwood swamp, a hardwood forest, wetlands, and pinelands. It offers natural and boardwalk trails, as well as bird-watching tours and workshops. The park, due to the various ecosystems it supports offers a range of wildlife one can observe.
Explore the beaches of Clearwater, and enjoy the piers! Enjoy flavorsome food! Go parasailing! Wander the Coachman Park, and take in a concert, a festival, or an exhibition; be entertained!