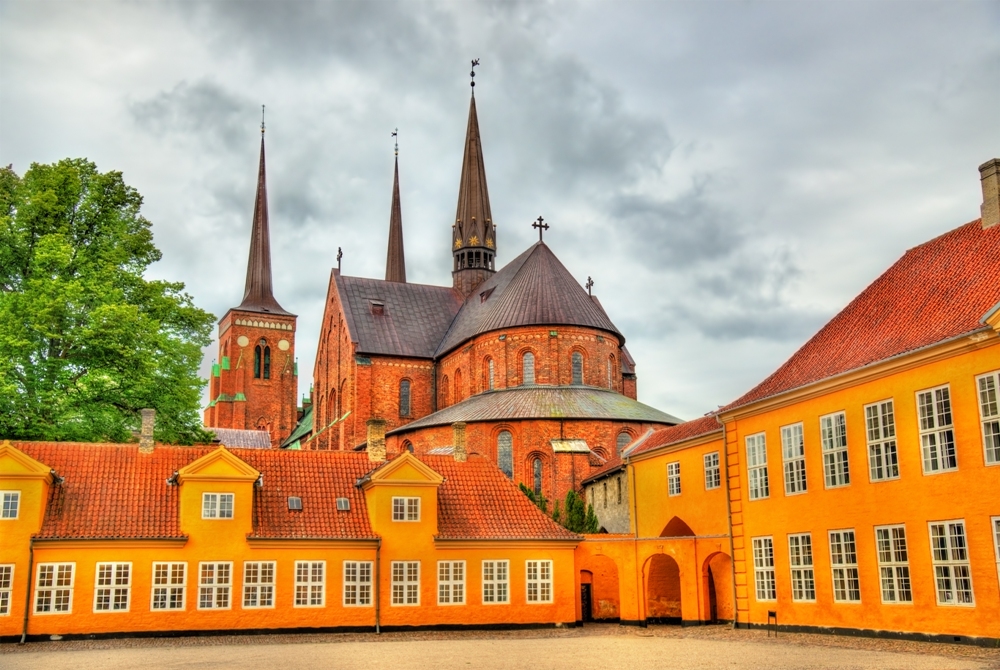 Roskilde Cathedral was added to UNESCO's World Heritage List in 1995. This historic cathedral highlights the changes in European architecture over several centuries. Construction began in the 1100s, continuing into the 1200s. It was the first cathedral in the region to be built of bricks in the Gothic design. Roskilde Cathedral's glamour quickly spread this design of architecture through northern Europe. The cathedral's grounds have been the final resting place for the members of Denmark's royal family since the 1400s. Throughout the years, renovations and additions have not ceased, with porches and other chapels and royal chambers have been added through to the end of the 1800s.
For over 1000 years, several different churches have stood on this very spot. The original church was built of wood, but after a horrible crime was committed on the grounds, the criminal was forced to pay penance to a family member (his sister, Estrid), who in turn used these funds to begin construction of a new church built of stone. Estrid, her son, Sweyn II, and nearly 40 other members of this Danish royal family have been buried here.
Building began on the current church during the 1170s. Construction took a hundred years. Its Gothic architecture is one of the first examples of its kind in northern Europe.
Roskilde Cathedral accepts visitors seven days per week. Wednesdays opening hours are slightly different and they are not open the entire day. In the winter, hours are from 10 a.m. to 4 p.m. During the summer months, hours are extended to 6 p.m. If going on a Sunday, remember that they do not open until 1 p.m. From the Central Train Station in Copenhagen, you can plan to arrive in around 30 minutes. When you arrive at Roskilde Train Station, you will then walk through the center of the city to get to the cathedral. The walk takes about 10 minutes.
Of the many things to see and do in Denmark, you'll find Roskilde Cathedral at the top of your list.