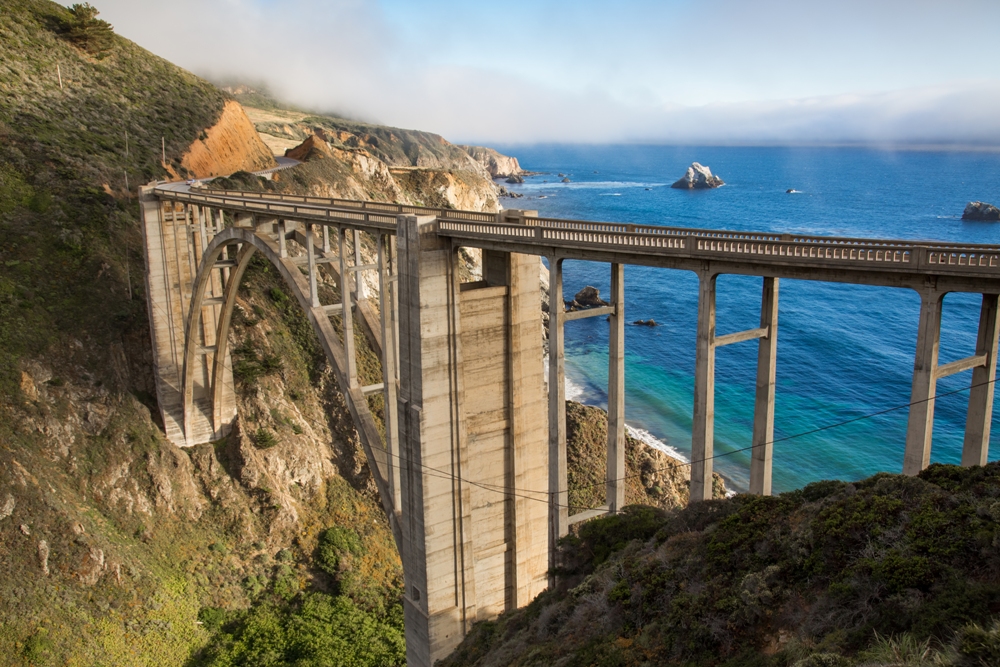 If you want to go for a spin, the following drives will leave both your head and eyes spinning.
Highway 1 – Big Sur, California. Stretching some 140 miles, Highway 1 grants spectacular views of the Pacific Ocean from high cliffs and the bridges spanning them, with San Simeon as the southernmost town where the highway begins and Carmel as its northern endpoint. Note that Highway 1 may be closed during the winter months.
Overseas Highway – Florida Keys. You'll never forget the nearly 120 series of bridges and roads that take you from Florida's mainland to Key West. The high and long point is the the Knight's Key Bridge, which spans seven miles of the ocean below it. The first attempt to connect the mainland to the Keys was intended to be railroad, destroyed by a hurricane in 1935. By then, with the construction having begun in 1912, only 30 miles of track had been completed.
Pacific Coast Highway – Southern California. The PCH begins near Santa Monica just west of Los Angeles and continues to the northernmost point of the Santa Monica Mountains in Ventura County. It's to be avoided during the tourist season of July and August, when it slows to a traffic pace similar to that for which Los Angeles is so famous. Usually, however, it's a freewheeling experience and offers a beautiful view of Southern California, particularly at night as the stars and moon look over the ocean as if guiding those sailing this amazing highway.
Skyline Drive – Shenandoah National Park, Virginia. This 105-mile road could not have been better named given its journey through the Shenandoah National Park in the Blue Ridge mountains. You won't mind that the speed limit drops to 35 miles per hour as you gaze upon the greenest of green valleys below and the explosion of colors should you travel the Skyline for the turn of leaves in autumn or the blooming of the flowers in spring. Take caution to watch for wildlife – including deer and even bears – crossing the road.
San Juan Skyway – Southern Colorado. As the Colorado Department of Transportation puts it, "If byways could claim royal lineage, this one would probably rule them all." It runs just over 130 miles, beginning in Durango, Colorado and continuing to the Mesa Verde National Park entrance. The section between Silverton and Ouray is known as "The Million Dollar Highway," likely due to the cost of its construction, and warrants caution because stretches of it lack guardrails. However, that's just one factor that makes San Juan Highway the drive of choice for thrill seekers.