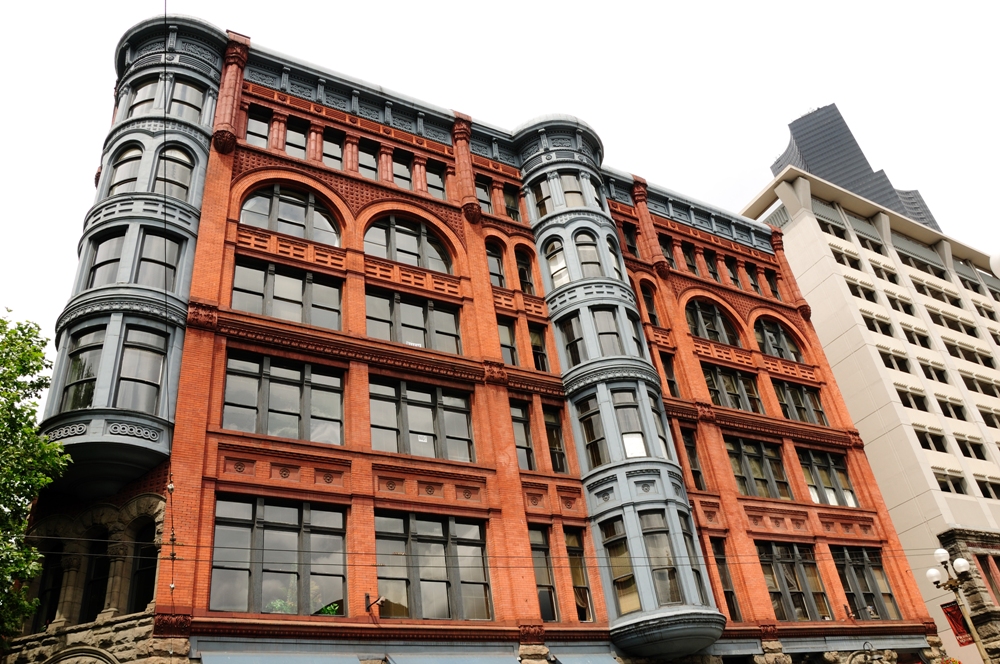 The long, flat area protected by the harbor at Elliott Bay was the spot chosen by those who first settled the region in 1852. Known today as Pioneer Square, in 1853 Henry Yesler opened the first steam-powered sawmill near what is now the intersection of Yesler Way and South 1st Avenue. Trees were cut from the forested hills and slid down to the sawmill. Because this was the center of commerce in the city, many businesses sprang up around the mill – restaurants and food stores, for instance, because the millworkers had to eat and shop somewhere close.
In June of 1889, a horrible fire destroyed more than 20 blocks of the city, as many of the buildings had been made of wood. While the fire was certainly unfortunate, it couldn't have happened at a better time. The city was in the midst of a strong economy, and the town began rebuilding immediately. The then-City Council passed a local ordinance that required all buildings built from then on to be constructed of stone or brick that would resist fire. A lot of the city had been built on soggy marshlands, so in order to bring everything up to code, the area was then filled in, they raised the streets, and in so doing created what is now known as the Seattle Underground.
Pioneer Square became a booming city once again, even better than the first time. During the Alaskan Gold Rush of 1897, the city saw its prosperity boom. However, as businesses began to move north to 2nd Avenue, Pioneer Square rapidly declined. By 1905, Pioneer Square was a shadow of what it had once been, now teeming with taverns and honky-tonks, brothels, seedy motels, and other houses of entertainment. This seedy atmosphere continued well into the 70s. There was no pressure from the city to redevelop the land, and today this famous area of Seattle has been renovated to pay homage to those settlers who knew that Seattle would be a wonderful place to live, work, and grow. Surprisingly, many of the buildings the townspeople built after the Great Fire are still standing today.