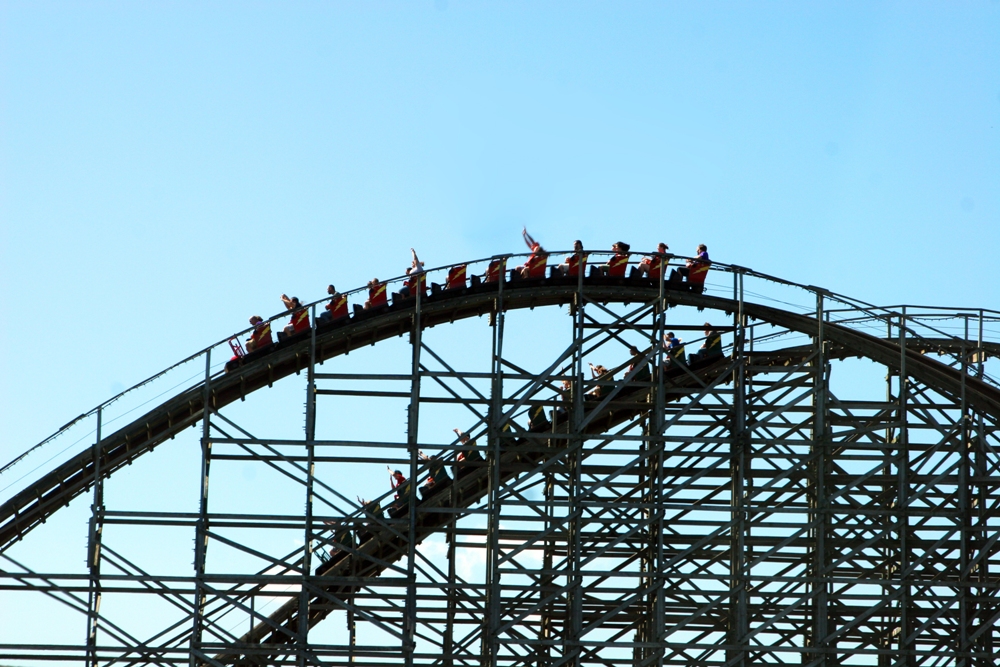 There are two types of roller coaster enthusiasts in this world, those who go for the sleek new coasters and all of their trick turns and those who seek out the old school wooden coaster. If you are the type of rider who seeks out the distinct creak that comes as you climb the first hill of a wooden coaster, this list is for you.
The Lightning Racer: Hershey Park, Pennsylvania
Are you a green racer or a red racer? Open in 2000, this unique coaster features a pair of side-by-side 3,400 feet tracks designed to thrill with 90-foot drops. The layout of the coaster makes it appear as though cars are pitted against each other in a 50 mile per hour race to complete the course.
Thunderhead: Dollywood, Tennessee
This coaster first appeared at Dollywood in 2004 and is one fun ride. With 22 turns, 32 crossovers and a track that runs approximately 3,230 feet, riders get a lot of bang for their buck. The ride is known for its abrupt twists, 100-foot drops and a top speed of 55 miles an hour.
GhostRider: Knott's Berry Farm, California
If you are looking for something that is not quite so terrifying and a little slower paced than the last two on this list, this is not the ride for you. Though it may not have so many twists and turns as others on this list, this is a ride that does not let up from the moment it starts until you are parked back safely at the dock. There are 14 hills and 10 crossovers during the course of the ride, a top speed of 55 miles per hour and runs about 4,500 feet from start to finish.
The Beast: Kings Island, Ohio
If you only make it to one ride on this list, this is the one you should aim to conquer. Considered to be granddaddy to the rest of rides on this list, the Beast opened in 1979 and was an instant hit. This amazing ride covers 7,359 feet and lasts nearly 5 minutes. The thrilling journey includes a pair of lift hills, a 540-degree helix and a maximum speed of 65 miles per hour. You can be guaranteed that this ride will have you screaming from start to finish.