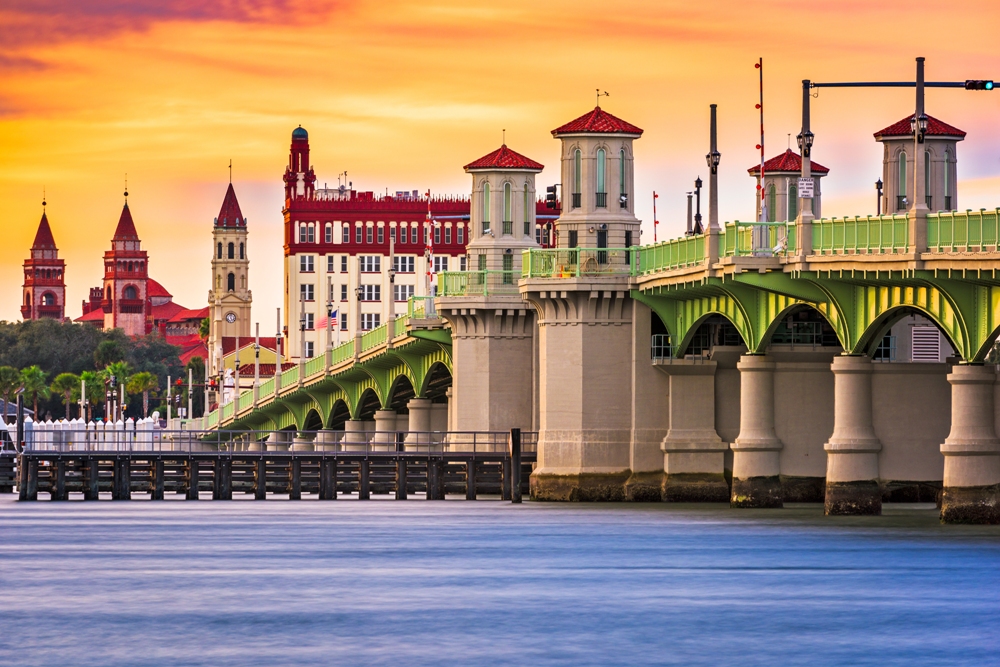 From its delightful year-round temperate climate, to its beautiful cobblestone streets and enchanting historical district, St. Augustine, Florida is an ideal location to escape from the pressures of everyday life. Located between Northeast and East Central Florida, the Nation's oldest city is home to a number of quaint bed and breakfasts, unique boutiques, and a number of interesting historical landmarks. Founded in the mid-1500s this small coastal town holds the distinction of being the oldest continuously occupied European settlement in the United States.
Here are few of our favorite reasons to visit this beautiful beachside town:
With 42 miles of sandy beaches, it is an ideal spot for you and your family to build sandcastles, splash in the water, or enjoy a lazy day under the sun.
The city is full of interesting restaurants, nightclubs, unique cafes and bistros. From college hotspots to Martini bars and jazz clubs, travelers will find the perfect spot to kick back and relax after a long day of exploring.
Augustine Eco Tours offers an opportunity for guests and locals to experience and interact with a wide variety of wildlife. From the many species of fish and turtle who dwell on and near the shores to the Dolphins who splash in the water and diverse bird species in the nearby habitats, there is plenty of interesting wildlife to encounter.
The St. Francis Inn Bed and Breakfast. Known for its eco-friendly lodging practices the Inn is renowned for its energy and water conservation, offers green amenities, and has a strict recycling program. The Bed and Breakfast offers guests an opportunity to book a room in a building that was originally built in the late 1700s. The guest rooms combine old world charm and modern amenities to offer guests the perfect place to escape from their everyday lives. The walled off courtyard garden offers a peaceful oasis for those who wish to unwind and enjoy their solitude. Guests who prefer to take advantage of the site's prime location to the beachfront have the opportunity to book space for a day pass as well.
What are your favorite reasons to visit? We would love to hear from you!