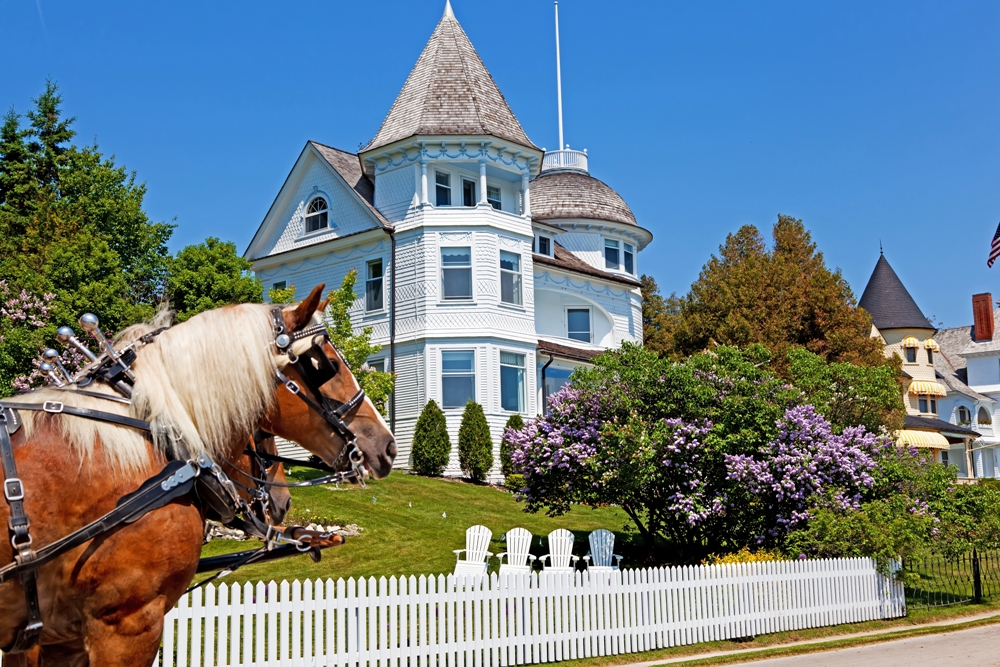 Mackinac Island is located in Michigan, in Lake Huron. It is between the upper and lower peninsulas of Michigan, and can be reached via ferry or small aircraft.  The entire 3.8 square mile island has been listed as a National Historic Landmark since October 1960.  Over three quarters of the island has been preserved as Mackinac Island State Park.   Its name is an anglicized version from the original Native American name given to it due to its turtle shape.  Mackinac Island is known for its lack of motorized vehicles, its funny name (MAK-in-aw), and its famous Mackinac Island fudge, a gastronomical delight. Travel around the island is accomplished through walking, hiking, bicycling, horseback riding, or riding in a horse drawn carriage; with over 70 miles of paths, one is sure to be right for your traveling needs.
Mackinac Island has something for everyone! Here are a few highlights:
Mackinac Island brings history alive! Make discoveries at the Historic Mill Creek Discovery Park; Colonial Michilimackinac— a reconstructed glimpse into an 18th century fort and fur trading village; the Old Mackinac Point Lighthouse— complete with original lens and an informative audiovisual program, Shipwrecks of the Straits, is available; and Fort Mackinac provides exhibits looking at the life within a fort!
Engage in transformational magic; visit the butterflies! Mackinac Island is home to the Mackinac Island Butterfly House and Insect Museum.  You can see hundreds butterflies native to four continents within its gardens. Mackinac Island is also home to the Wings of Mackinac Butterfly Conservatory which houses around a hundred different species of butterflies; the butterflies are shipped from various butterfly farms.
If you are looking to disconnect from the mundane, and reconnect to the extraordinary you, Mackinac Island boasts spa treatment options. Spend your time relaxing at the Lilac Tree! Select from a relaxation massage, a deep tissue massage, a hot stone treatment, a sugar scrub and massage, a body wrap, a facial, a manicure, a pedicure, or any combination of the above! Why relax alone? Lilac Tree also offers a couples relaxation massage, and a couples deep tissue massage. Another option available is the Astor's Salon.
Mackinac Island offers a chance to return to the basics, to reconnect with nature, to explore, and to discover something amazing!
For information, contact:
Mackinac Island Tourism Bureau
7274 Main Street
Mackinac Island, MI 49757
(906) 847-3783
www.mackinacisland.org