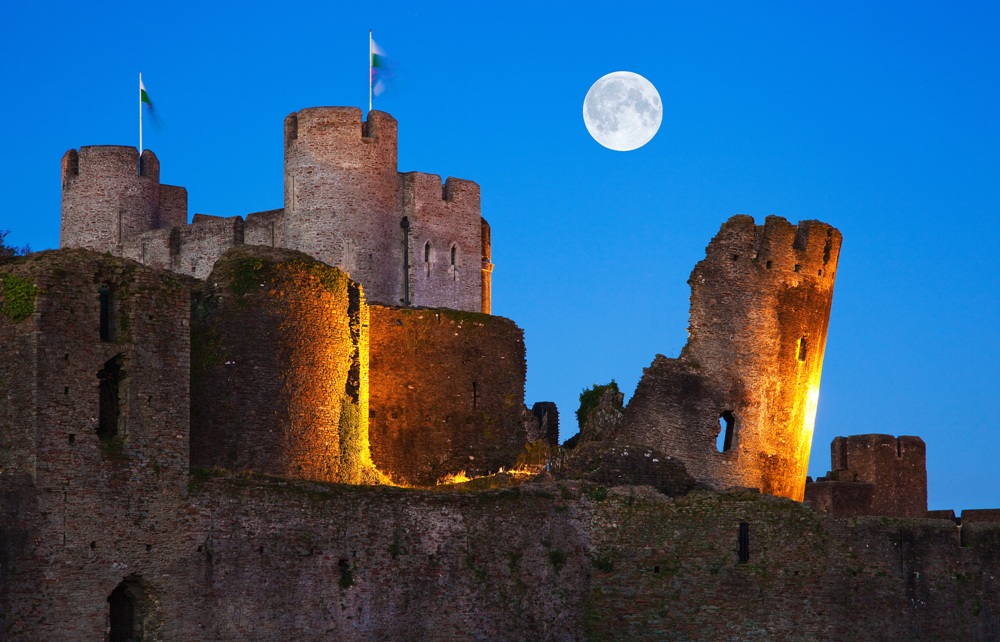 A vacation in Wales is the place to be if you're in love with castles and royal history. The natural drama of this land offers over 600 castles amid a backdrop of pristine landscapes.
Caldicot Castle
No matter where you stand outside this immense castle, you're sure to be able to capture an Instagram-worthy photo op. Legends surround this medieval castle, from its Norman beginning, through the conflicts of the Middle Ages, through to its domestication during Victorian times. The castle is situated on fifty-five acres of picturesque countryside, and today's caretakers put on annual re-enactments. There is even a catered tearoom allowing for a break in the day to experience life as a castle-dweller.
Chirk Castle
This castle on the border of the English-Welsh lands is simply magnificent in grandeur and stature. The staterooms within its walls are a testament to the elegance of the era. Walls of elaborate plaster moulding, a medieval-inspired tower, and even the proverbial dungeon round out this castle's high-points. An 18th century renovation added a Servants' Hall. Located in Wrexham, you will enjoy the garden on the grounds, the winding terrace, open pavilion, and the many acres of parklands surrounding this gem.
Penrhyn Castle
This "newer" Norman-inspired castle is full of the things you might think of when conjuring images of the epitome of the fantasy castle. There are ornate carvings, period paintings, and even the wallpaper is handmade. There is a gift shop, tearoom, and annual events held here. Aligning your vacation with one of these special events will make your vacation that much more special.
Carew Castle and Tidal Mill
Located in Pembrokeshire, the Carew Castle has withstood the test of over 2000 years' worth of weather, invaders, and other magnificent history. The location itself is a stunning sight to behold, and the 23-acre millpond the castle overlooks adds to the splendor. If you are an architectural history buff, you will notice how the castle began as a Norman stronghold, and eventually transitioned into an Elizabethan country home.