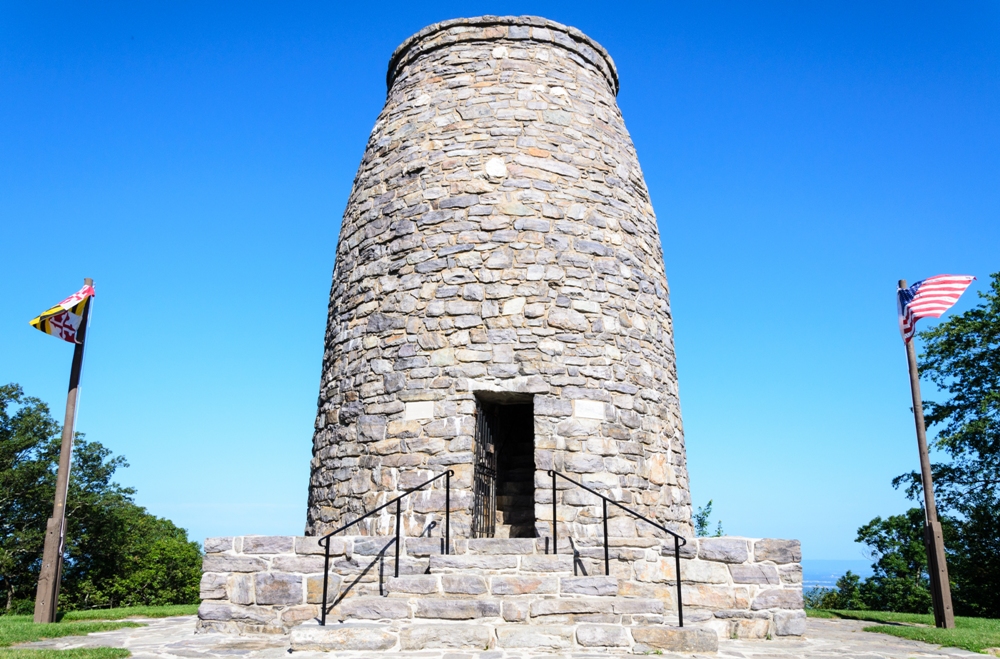 At the top of South Mountain stands the first ever monument erected in George Washington's honor. This, the original Washington Monument (not to be confused with the monument of the same name in DC), is a tower made of stone that was designed and built in 1827 by citizens in nearby Boonsboro.
Boonsboro was considered a booming town back then, even with just a mere 500 individuals calling it home. According to a newspaper from the era, the town square buzzed with activity that Fourth of July morning in 1827. A full drum corps with fife player marched nearly two miles up South Mountain, town citizens marching in step. From 7:00 am until noon, the folks worked tirelessly. They broke for lunch, complete with a dedication ceremony. After, they resumed working. By 4:00 pm, their labors had produced a fifteen-foot-tall monument that stood on a circular base with a 54-foot circumference. They ended the day with the Declaration of Independence read aloud, after which three war veterans from the Revolutionary War fired a salute of three rounds. In September of that year, the citizens returned to finish the monument. When they had, it stood at thirty feet tall.
Over the years, the monument began to crumble and it has been rebuilt twice, most recently in 1936. The Civilian Conservation Corps maintained it for many years, and now that responsibility belongs to Maryland's Park Service.
Hiking near the monument is some of the best in the country, as it is a part of Appalachia's National Scenic Trail. The entirety of the Appalachian Trail is open to hikers (and hikers only, as this is only a footpath – bikers can cycle on the trails of Greenbriar Park), all the way from Maine down to Georgia. If you want to hike or backpack, an overnight outing (or even a few days) can be fun, and you can park at the Washington Monument State Park for a small fee.
There are also other campgrounds in the area at which you can pitch your tent or bring your RV, such as Maple Tree Camp in Gapland, Yogi Bear's Jellystone Park in Williamsport, or Crow's Nest Campground in Thurmont.